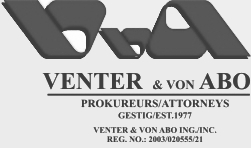 Venter & von Abo Inc was established by me in Westonaria in 1977 and I have been practising as an Attorney continually for close to 37 years.
Advocate Steyn was first instructed by Venter & von Abo Inc in 1995 to represent Motorsport South Africa, the Controlling Body of motorsport in South Africa, in a High Court matter in Gauteng.
In this matter, Advocate Steyn impressed with his work ethic and competence, which were manifested in the punctuality, thoroughness and completeness of research with which he prepared pleadings, and the confidence with which he conducted himself in Court. As a consequence, the matter was concluded with complete success.
Because of the competence with which Advocate Steyn represented Motorsport South Africa in this matter, he was again instructed by Venter & von Abo Inc in further matters, and eventually became my Counsel of choice in not only litigation ranging from disputes arising from contract to Constitutional and administrative law, but also in furnishing legal opinions on a wide range of subjects in a large number of matters which never progressed to litigation.
Advocate Steyn's commitment and unwavering ethical standards have always inspired our utmost confidence.
Over a period spanning almost two decades, Advocate Steyn has acted as Counsel for most of the clients of Venter & von Abo Inc., the most prominent of which is probably Porsche Centre South Africa, the sole importer and distributor of Porsche cars in South Africa.
Advocate Steyn consistently impressed with his knowledge of the Rules of Court and the Practice Notes regulating proceedings in whichever Division of the High Court matters needed to be conducted.
It goes without saying that a firm and valued personal friendship developed between myself and Advocate Steyn over our years of working together.
Willem Petrus Venter – Senior Director at Venter & Von Abo Inc.