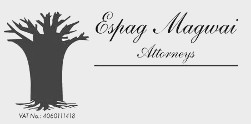 We hereby confirm that we have made use of Advocate Steyn's services on countless occasions, for our firm's biggest cases.
The firm's relationship with Advocate Steyn dates back at least 11 years, and our relationship with him has grown from strength to strength.
We cannot emphasize Advocate Steyn's professional ethic and honesty enough. While assisting us with matters locally and abroad, Advocate Steyn's vast knowledge of the law has always outshone his competitors.
Advocate Steyn appreciates the pressure we work under, and his time frame estimates can always be relied on.
The most important lesson that we have learnt from Advocate Steyn is that there is not any replacement for in depth and highly intellectual preparation in all aspects of the law.
We have recommended and will utilize Advocate Steyn as an advocate on many occasions and with the highest distinction resulting in excellent results.
Advocate Steyn's honesty, openness and highest degree of ethics is beyond any reproach.
P J van Staden – Espag Magwai Attorneys